WSA - Weather Shield
Chimney Caps
WSA Weathershield caps were designed as a replacement cap for Class A chimneys with solid pack insulation. Tight friction fit allows this cap to slip down inside the chimney securely. Available with 1/2" spark arrestor mesh.
---
WSA for Round Chimneys

For round single wall metal chimneys, masonry chimneys, chimney liners and solid pack insulated chimneys. Fits square and rectangular chimneys with adaptor.
 
 
 
 
WSA-3
3 inch diameter
WSA-4
4 inch diameter
WSA-5
5 inch diameter
WSA-6
6 inch diameter
WSA-7
7 inch diameter
WSA-8
8 inch diameter
WSA-9
9 inch diameter
WSA-10
10 inch diameter
WSA-12
12 inch diameter
WSA-14
14 inch diameter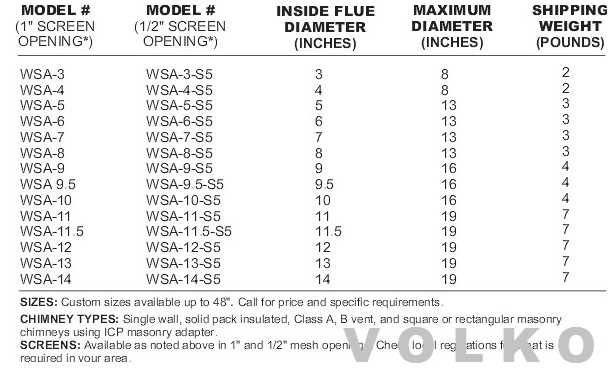 ---
---
Easy To Remove Screen
Easy To Clean and Inspect
The Weathershield does not need to be removed for annual chimney cleaning and inspection. Simply unscrew and remove the top cover and screen, tilt support, and brush directly through the Weathershield. The top can also be closed against the bottom with an optional closure kit for sealing the chimney when not in use. Optional 1/2" screen and top supports are also available.