---
Vacu Stack Chimney Cap
Wind Resistant / Anti Downdraft Cap
for masonry, brick & clay liner applications

Above are options to fit the 3 most common clay flue sizes. Please call us to order any other size.

Combo priced options include and ship with...
Vacustack, adaptor and screen.
The Vacu-Stack Chimney Cap solves the two wind related chimney problems -- wind induced downdraft and dynamic wind loading. The streamline flow of the wind around the Vacu-Stack prevents wind from blowing into the chimney -- even when the wind is deflected downward. The Vacu-Stack creates a venturi that causes flue gases to flow up and out of the chimney.

There are no moving parts to bind or malfunction.
Vacu-Stacks are tested by an independent testing laboratory. In the absence of wind, Vacu-Stacks provide a more than adequate passage for exhausting flue gases. The open spaces in a properly sized Vacu-stack are several times larger than the flue opening. The unique design of the Vacu-Stack gives excellent protection from downdrafts caused by wind, where other devices often fail.
High quality austenitic stainless steel, T-304, guarantees superior durability for long service life. All fasteners and hardware are also made of stainless steel for complete corrosion protection. Ribbed construction provides extra strength and reinforcement. Exposed edges are hemmed for ease of installation. The Vacu-Stack chimney cap is made in the USA.
---
Masonry Chimney Installation:
An adapter is required for square, round or rectangular masonry chimneys. A patented fastening device secures the adapter to the chimney flue. Vacu-Stack caps fit inside the adapter collar. Silicone caulking must be applied to seal seams and joints.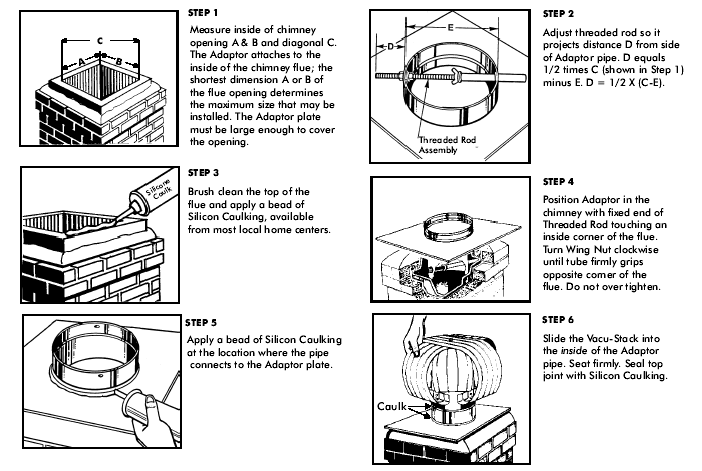 ---
Sizing for a VacuStack

Masonry, brick or clay liners need to be measured by its INSIDE measurement.
Older "clay" liners and newer ceramic liners will vary in their inner and outer measurements.

Measure and give us a call if you would like help sizing for a Vacu Stack.

---

| | | |
| --- | --- | --- |
| Typically... a standard size clay liner | will have an inner measurement of approximately | to as big as... |
| 8x8, sometimes called a 9x9 | 6" x 6" | 7 1/2" x 7 1/2" |
| 12x12, sometimes called a 13x13 | 10" x 10" | 11 1/2" x 11 1/2" |
| 8x12, sometimes called a 9x13 | 6" x 10" | 7 1/2" x 11 1/2" |
---
VacuStack
MEASUREMENTS
A
B
VSS6-AD-S5
6
14
VSS7-AD-S5
7
15
VSS10-AD-S5
10
21
VSS812-AD-S5
6 x 10
18
---
AD - Stainless Steel Adaptor Plate
Used for adapting a VSS Vacu-Stack on a square, oval, or rectangular masonry chimney flue.