Dry your clothes faster and prevent lint build up with the new Dryer Duct Booster®.

Clothes dryers are often installed in areas of homes where they cannot work effectively. This is because moist air cannot effectively exit the dryer and exhaust to the outside—bogging down the entire drying process. If a dryer's vent run is over 25 equivalent feet* or the dryer is experiencing long drying time, your dryer may need a dryer booster fan. The Dryer Duct Booster can also reduce the potential fire hazard associated with lint buildup.
*** When using equivalent feet a 90° elbow equals 5 feet and a
45° elbow equals 2.5 feet.
***Some dryers can exhaust beyond 25 equivalent feet without a booster fan.

Head-to-Head Lint Test!
Click to play video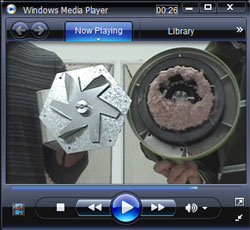 See the Dryer Duct Booster®, dominate a traditional inline dryer booster fan.